Here are some of my books and a little about them…
---
***Starred Review in Booklist!***
Peck gives a Russian folktale an American tall-tale twist in this humorous picture book. Tall Papa Tom and his family set off in their jalopy to attend the Peach Pickin' Festival. Along the way, Little Buddy Earl yodels continuously. When they reach the peach orchard owned by Cranky Uncle Frankie and his family, they are all sorely disappointed to see that the peaches are scrawny. At this point, the family learns what the observant reader already knows: Little Buddy Earl's yodeling can make fruit grow. He yodels—"One little peach, / How do you do? / I love cobbler / And yodel-ay-dee-hoo!"—and the peach becomes massive. Eventually, the whole family gets the peach off the tree and heads off triumphantly to the festival. The text is full of alliterations and keeps a consistent rhythm throughout, which makes it ideal for reading aloud. The fact that a child saves the day has obvious appeal as well. The warm illustrations, full of orange and yellow and light, combine with the text to create a feeling of homespun charm. Grades K-3. –Kara Dean
(co-authored with David Davis) Illustrator: Carin Berger
Winner of Green Poetry for Children Award-Santa Monica Library
Mother Goose has gone green, and she's saving the earth one
rhyme at a time! April 2011 from Sterling Publishing Company.
ISBN: 978-1402765254
"The book is hysterical! I can imagine authors Jan Peck and David Davis sitting around and adapting Mother Goose into these funny, timely and skillfully mastered rhymes…with enviromentalism in mind."
Early Childhood Blog: www.tbe.org.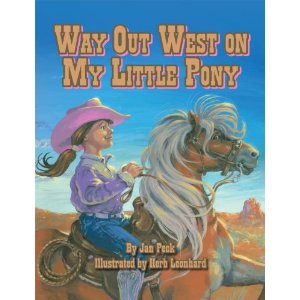 "Jan Peck brings the West to life for children with rhythmic and enchanting lyrics about horny toads, prairie dogs, armadillos, jackrabbits, roadrunners, longhorns, and buffalo." -Glenn Dromgoole,  "The prose is charming and sparkling with animation. It will ignite children's imaginations." -Debbie Raindl, children's services, John Ed Keeter Public Library, Saginaw, Texas "This addition to Peck's collection is a natural for a rowdy prairie-themed story time." -Sharon M. Lawler, librarian, Universal City, Texas.
Children mosey down a Western trail in this adorable rhyming story. As Jan Peck introduces a variety of Western critters to her young readers in this fun and lighthearted adventure, racing roadrunners, stinky skunks, and digging armadillos come out to play. Herb Leonhard's fantastical illustrations bring to life the rugged landscape of the West as it is explored through a cowgirl's imagination.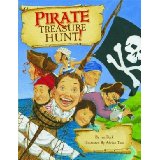 Pirate Treasure Hunt by Jan Peck, illustrated by Adrian Tans
Pelican Publishing Company
"Find treasure more valuable than anything, even gold! "
Hidden deep in a cave, high on a cliff, past the lagoon is a secret pirate treasure, and Captain Dare is inviting readers to help him find it.
This interactive journey brings out the seafaring scoundrel in everyone.
Children repeat the orders of Captain Dare as he leads them on a treasure hunt unlike any other.
For exciting programs using Pirate Treasure Hunt! See my presentations page.
Books for the youngest scientists!
Simon & Schuster Books for Young Readers sells these books in USA, Australia, England, and Japan.
Way Up High in a Tall Green Tree was on PBS Teacher Resource Recommended Science Book List.
Also featured in Time Magazine for Kids.
Way Up High in a Tall Green Tree nominated for the 2005-2006 Golden Spur Award for Texas Authors – Children's Literature division of Texas State Reading Association.
A finalist for The Institute of Texas Letters and Friends of the Austin Public Library Award for Best Children's Book.
Way Down Deep in the Deep Blue Sea has sold  in paperback and audio from Scholastic Book Clubs.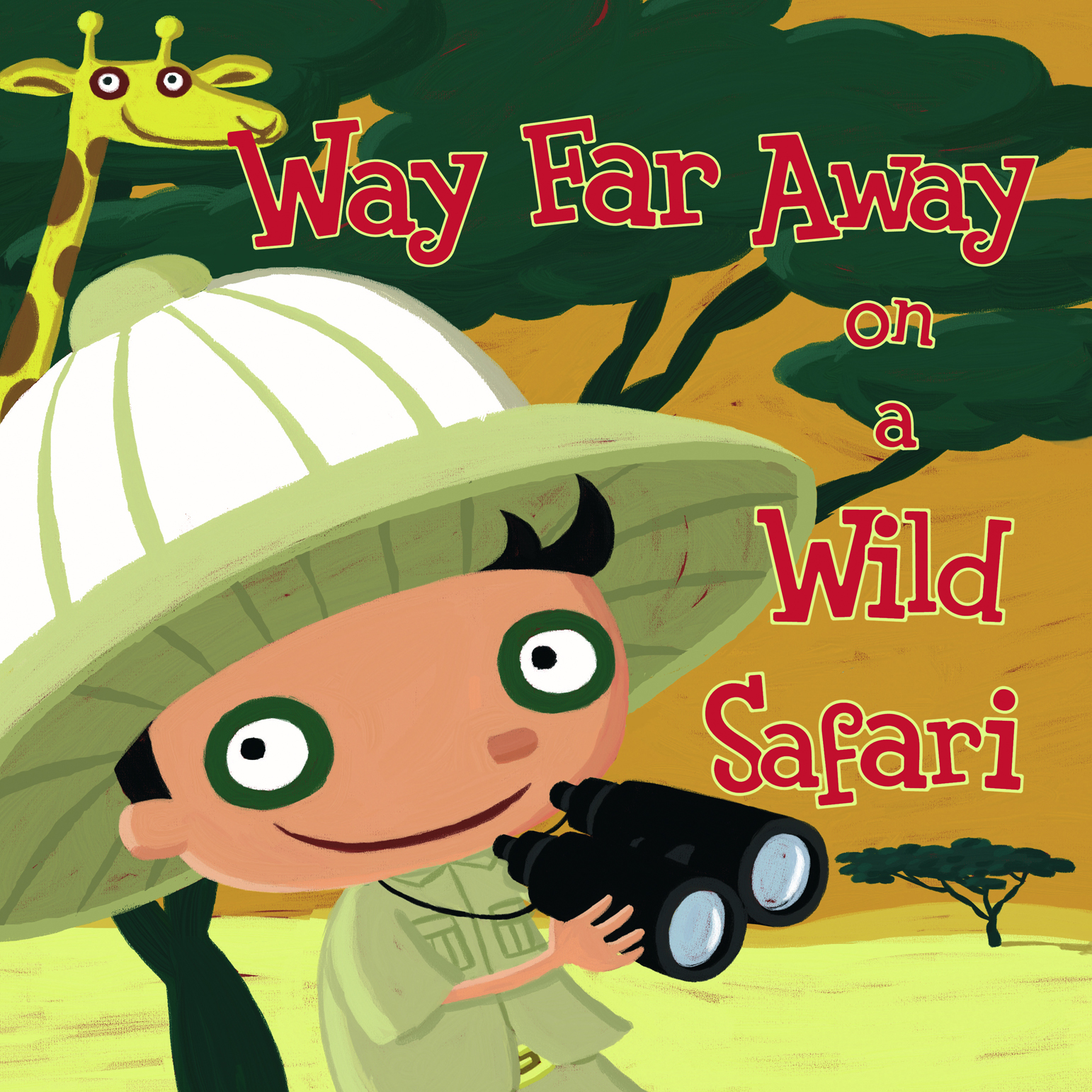 Here's THE GIANT CARROT by Jan Peck:
The Kentucky Bluegrass Award 1999 Master List
Named to the 2000-2001 Arkansas Diamond Award Master List
Named to the 1999-2000 Pennsylvania Young Readers' Choice Award Master List
Named to the 1999-2000 Maryland Black-Eyed Susan Award Master List
"Best Children's Books of the Year" for 1998–Bank Street College
***Starred Review in School Library Journal***
"A delightful variation of the folktale 'The Turnip.' This tale begs to be read aloud . . . a fine, humorous sense of story . . . a succulent story to savor."
— School Library Journal Book Review Star
Dial Book for Young Readers, 1998, 32 pages, full-color illustration, ISBN 0-8037-1823-3, $15.99. Penguin Putnam Inc. Ages 4-9